Participant 21


Vices
Portal to sour vines and vendettas
Vision, projecting fears and insecurity
Varnish point.
That empty feeling when a story you're familiar with is called a lie. A story you felt in your genes, in your purpose, in your build.

Like telling a white 6 year old Santa was just marketing strategy for 6 figure Co-operations. Or telling a 4 year old boy from south Nigeria his fallen tooth need not chill on roof tops before replacements.
The brink of the moment where your innocence fades into confusion and then... further confusion.
Realising the taste of victory you felt at social studies when you won debates with recycled points like
"...boys are better than girls because girls are just one rib out of 206 bones... Without me, us, they're nothing..."
is now called patriarchy, toxic.
You haven't been getting much sleep lately cause monsters have graduated from lurking under your bed to staring you in the face, from gorilla glass screens reflecting HD glares of internet pages, social media hash tags like MENISCUM etc.
Also, you're trying to be woke and that keeps you up too.
Your parents seemed perfect up until yesterday when you became old enough to grasp phrases like 'master suppression', 'emotional abuse' and the likes.
The binary codes that held your world stable grew bugs at 16 'cause it's 2020 and even 64 bits are not much appreciated. You wish this was the matrix. You need a blue pill. Meth should do for the time.
Your senior sister is part of the sentinels and you've only gotten used to that but behind your layers of pretence you know you're not on her side. You're not on any sides and that's the problem.
You just want to be alive...
And sleep well without getting caught in gender cross-fires.
But you see it in your mother's eyes, your sister's fierce boundaries, your girlfriend's face... Your own reflection.
Everyone keeps a gun in their mouth and one in their hand but all you have is first aid and sleeping meds.
Who brings a pillow to a battle field???
It's a Vine of vengeful vices
The vicious plaintiff,
Vagina and venom.
Votes of conflict all calling even
Waiting on you to throw in your card.
Gender court has called you up to the witness booth.
It's a hearing but everyone is screaming.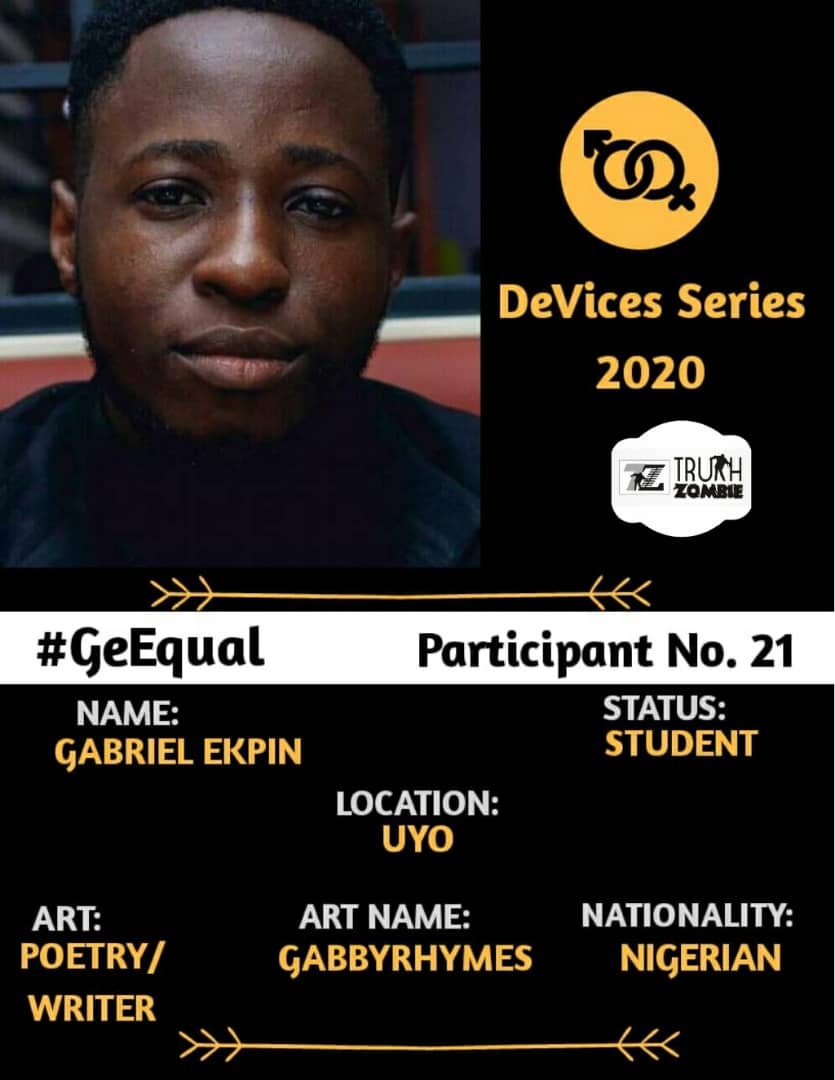 Peer-to-Peer Review/Critique
What qualifies as a critique on Boardspeck
Your thoughts about this article
An analysis of this article
A commendation of this article
Your constructive criticism of this article
A recommedation for author's improvement
To send a review or critique to this Author on this article, Please LOGIN or SIGN UP
Top Writers (Last 30 Days)
Top Peer-to-Peer Contributors