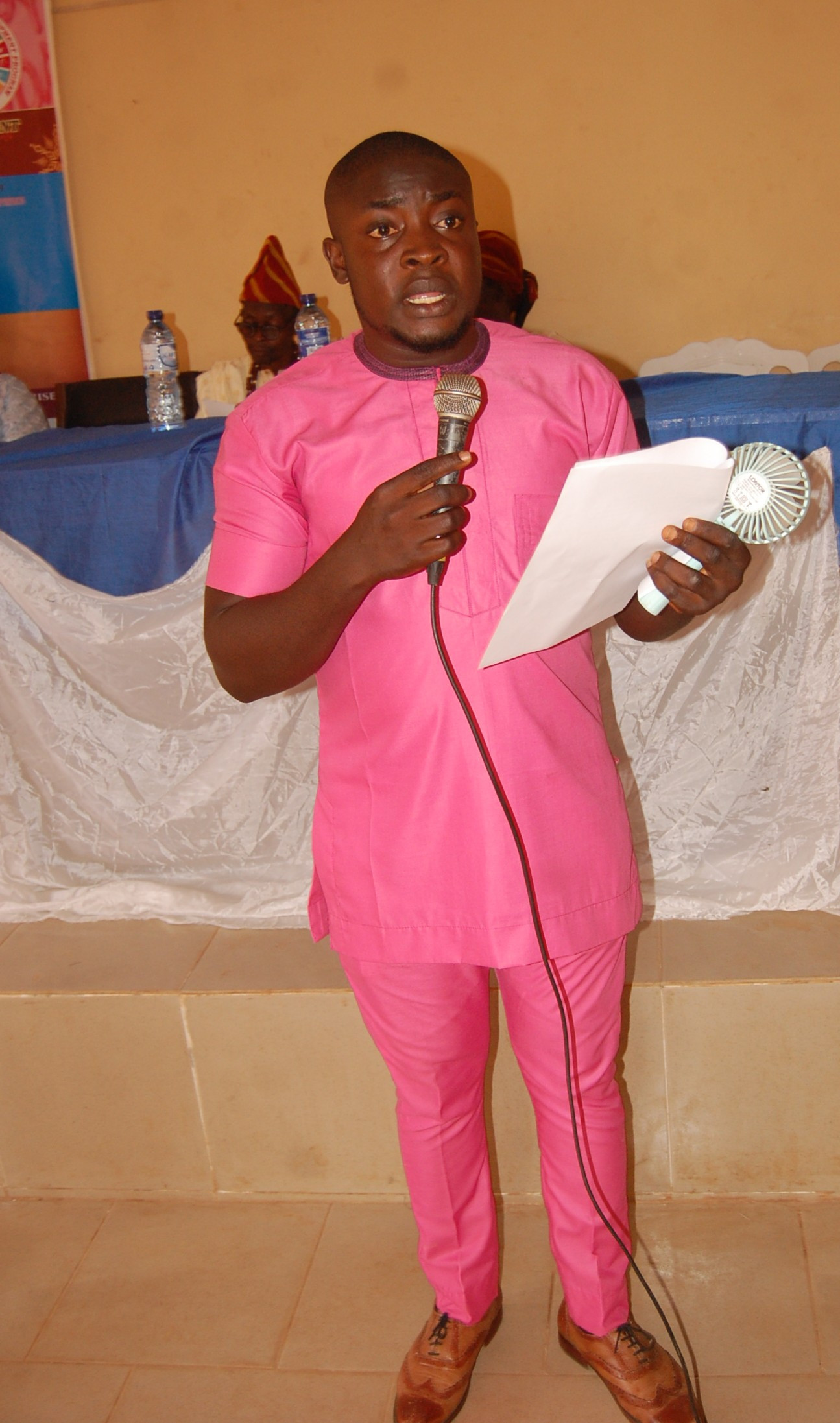 Profile of Adamolekun Jacob Ayomide (Ekiti State Goal 11 Advocate, 2021, Ambassador of SDGs, YOMA and UReport)
Adamolekun Jacob Ayomide is a native and proud Son of Ayegbaju-Ekiti, Ekiti State Nigeria. He studied Accounting in the Ekiti State University, Ado-Ekiti, he's also a Graduate of GIGMOF School of Mentoring (GSM), got Awarded as the Pioneer Best Student with the Best Community Development Projects. He's rose up to becoming a Lecturer in GIGMOF School of Mentoring, taking Community Development Projects (CDP)
He has quite other numerous number of Certifications, Trainings etc to his name. Some of which includes: NGO Management and Strategies, Digital Marketing, Ultimate Website Design and Development, Content Writing, Real Estate Management and Building Construction and many more.
A Business Consultant, Finance and Cost Analyst, Realtor, Writer, Media Strategist, Content Creator, Concepts Developer, Kids Guardian, SDGs Advocate, RETARD Drug Advocate (RTA), YOMA Ambassador, UReport Ambassador, Development Knowledge Facilitators (DKF) and Serial Entrepreneur.
He started developing interests in Entrepreneurship and petty Businesses as an Undergraduate. While he was in his final years, a male finalist popularly called Àkàrà Ayò and Àkàrà Yahoo in the State Capital started Beans Cake (Àkàrà) Business; doing an old business in a 21st century settings.
He's been a successful Community and Social Impact Leader over the years with the help of God and the efforts of his 200 plus Mentors, picked in areas of his interests.
He is the CEO/M.D of a registered Company: HAY-JAY CHAMPION GLOBAL ENTERPRISES, with couple of subsidiaries. The Manager of Sir. Confidence SC Band, one of the leading Musical Bands with it's Head Office in Ekiti State.
He is the Founder and Executive Director of GLOBAL CHAMPIONS CONNECT - Job Providers Hub [GCC-JPHub].
Global Champions Connect [Job Providers Hub]
GCC-JP Hub, a Training Centre is a subsidiary of HAY-JAY CHAMPION GLOBAL ENTERPRISES (RC: 3021597), a registered Company with few branches having its scope spread across over 8-Sectors of the Economy; Real Estate, Catering, Selling&Distribution, Agriculture, Music&Ent., Innovation, Industry, Education, Intl. Trade etc
Aims & Objectives.
- Reducing high rate of Unemployment in the Society.
- Preparing Students for Life After School.
- Creating Avenue for Skills acquisition, Enhancement and Launch.
- Training on Personal Development, Self dependence and Empowerment.
- Encouraging Entrepreneurship and Innovations.
- Opportunities for emerging Leaders.
- Provision and Sharing of Job opportunities etc
A registered member of Police Community Relations Committee (PCRC) and Youths for Peace and Security Africa (YPSA).
He's been playing leadership role being the Convener and National Coordinator of Sustainable Grassroots Development Program (SGDP); one of the leading Non-Governmental Organizations in Ekiti State. Assistant Coordinator of Life After School Foundation (LASF), Volunteer and active Member of Divine Motivation for Positive Impact Initiative (DMPII). Founder of Community Readers Club (CRC). Auditor General of Federation of Ayegbaju Students Union (FASU). Treasurer of Ayegbaju-Ekiti Youths Forum (AEYF). Social director of Adladof Old Students Association (ADLADOFOSA); first Private Secondary School with well structured Alumni group in Ekiti State. Secretary of Proudly Ayegbaju Ekiti Movement and an Associate of Development Nigeria (Dev.Nig.) a Global Initiative for Nigeria Development.
He's the Founder/National Coordinator of Unite Ekiti North Movement (U-EN), a youth led organization bringing youths together for Sustainable Development of the District or Region.
He's recently working on building Career in Real Estates and developing Estates (Residential and Farm) so as to procure sustaining solutions to housing problems, food scarcity and security in the Cities and Communities.
He is a Teacher in the Anglican Children Ministry (ACM), due to his believe that educating Children is equal to building the Community's future.
He's working tirelessly in achieving the UN-SDGs Goal 11 come 2030 and has touched Goals 1, 2, 3, 4, 5, 6, 8, 11, 16 and 17.
He's the Organizing Secretary of Community Entertainment Group (CEG), where he made known the contributions of Entertainment in the Unity and Development of any Community.
He volunteered with Ayegbaju Task Force and ensures that the Community generated Revenue that's three times the existing yearly revenue within Six Months through his Community Development Strategies.
He's received a couple of Awards in recognition of his impacts in developing the grassroots and contributing meaningfully to the growth of others, Leadership Excellence Awards, Award of Excellence, Community Development Award, also for his efforts towards investing in fellow human, for his outstanding performances and for building Sustainable Cities and Communities.

Since the inauguration of Sustainable Grassroots Development Program (SGDP), a non governmental organization aimed at discovering, deliberating and procuring sustainable solutions to the societal problems right from the grassroots to the nooks and crannies of the Nation.
SGDP is an avenue whereby like minded visionary youths sees as an opportunity to impact lives, build working relationships, train youths to becoming self reliant and dependent by organizing trainings, seminars, empowerment and enhancement programs etc.
SGDP is also an avenue whereby individual's talents and natural assets are being discovered, rebranded, rewarded, promoted and projected to ensures for personal development, greatness and destiny fulfillment as well as Community Development.
He therefore advices the Youths to be a solution to the problems the society and its people are facing, because "if you fails to take it as a task, others too will neglect it".
Seeing the following loop holes; Efforts of Government being rendered futile due to institutional failures, wrong mindset of the people and inefficacy of the available resources. SGDP's Working and Management Team believes we can fill such gaps in complementing the efforts of Government through our impact projects.
He strongly believed that "if you don't take responsibility, you won't perform your responsibilities".
Ayo Adamolekun has been leading his working Team to proffer sustainable solutions to Community's problems and to increase access to quality education by providing; Scholarships, Bursaries, School Materials, Free Tuition fees, Writing materials, Food, Free Jamb Slots, Free Tutorials, Career and Health Talks, Free Computer and Application softwares Training, Free Agricultural trainings, Seminars, Free Skills acquisition programmes etc.
SGDP has Partnered with different Organizations, Individuals, Associations, NGOs, Groups, Institutions, Agencies and Companies within and outside the State, home and in diaspora, so as to make impeccable impacts in the society in achieving the targeted Goals of the SDGs.
Together with his Working and Management Team, his impact projects has touched couple of Communities in Oye Local Government area, having Children, Students, Graduates and Post Graduates, Youths, Orphans, Less privileged and Disabled, Widows and Widowers, Aged, Communities and Government as its targets.
He's made grassroots and local communities his area of interest being closer to the people.
He concluded that "if your charity does not benefits the people around you, don't bother exporting it".
Together we can and in unity we will build Sustainable Cities and Communities.
YOU CAN DONATE, PARTNER OR SPONSOR OUR NGO;SGDP THROUGH:
Acc. No.: 2091378211
Bank Name: UBA
Acc. Name: Adamolekun Ayomide Jacob

- Ambassador Adamolekun Jacob Ayomide
(SGDP, HCGE, COLHEM, LASF, U-EN, GCC-JPHUB)
08062528016
ayoadamolekunfamily@gmail.com
Peer-to-Peer Review/Critique
What qualifies as a critique on Boardspeck
Your thoughts about this article
An analysis of this article
A commendation of this article
Your constructive criticism of this article
A recommedation for author's improvement
To send a review or critique to this Author on this article, Please LOGIN or SIGN UP
Author
Top Writers (Last 30 Days)
Top Peer-to-Peer Contributors