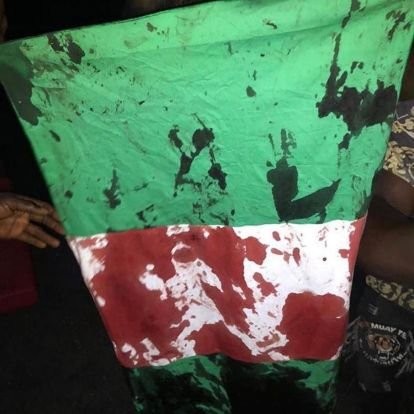 On October 7th 2020, Nigerians decided to take a protest against long-standing police brutality beyond social media and stormed the street of Lagos. Quickly, the protest spread across the country. People were protesting in all geo-political zones and the peaceful demonstration became the new norm. Wake up, dress up, go protest, retire and prepare for the next day's protest. It was frantic, amazingly organized, leaderless yet unified. It was like something they have never seen before, they were stunned. Actually, we were too. It was a protest against a lethal police unit but that might not have been the end. There were issues that were as deadly as SARS that needed to be addressed and the tone was beginning to sound. We were awake and that only had one meaning.
In the capital, another heated protest centre, they couldn't fathom it. There was the one-mindedness of the youth and then there was the loudness of Western religious leaders and regular onlookers. Suddenly, Pastor Adeboye didn't tell us to pray away SARS – he was in full support. Oyedepo didn't consider how it was going to affect religious activities and the money that comes with them. It was confusing. There was only one way to understand it in their world – it was all planned. Bashir tweeted it. Femi Adesina said it. Or maybe, it is just Bashir and Femi's usual silliness. Maybe that was not the echo at the top. Maybe the top realized that it is normal for such well-financed large-scale protests to break out in a country where it really should have broken out.
Perchance, Bashir and Femi's statements were a reflection of the top's understanding. They actually did not expect a protest to be this unified. They did not expect Tinubu, an ally and a chief thug, to be this accommodating of a protest. They expected more from him. They expected more than just transporting thugs with state vehicles to protest centres. They expected him to do everything to quell a demonstration that started in his abode. They expected him to be the absolute dictator that he is. Perhaps, transporting thugs with state vehicles to disrupt protest centres and harm protesters was all he could have done. Perhaps, he could have done more but decided to act restrainedly and see what the protest would mean for Buhari's administration – an administration that has been trimming his wings. Whichever it was, Abuja's interpretation was clear. They were trying to bring down the government. To them, it was not normal for citizens to protest against a police unit that has killed thousands. To them, it was politics. Hours before the Lekki Massacre, northern support began to wane. Voices that have supported the protest and even called on the government to end banditry and insecurity in the north disappeared. There were talks of some religious leaders in the north sowing lies about how the protest aimed to disrepute the current administration and even bring it down.
They killed and injured us because it didn't appear normal that Nigerians would organize such an amazing protest and would be so fearless and relentless in getting justice. They killed and injured us because they thought we were protesting so that another oppressor would gain a political advantage. They killed and injured us because maybe another oppressor saw our protest as a means to gain political advantage. They killed us because they thought we were unconscious and would only protest when nudged. Or maybe I'm being overly analytical and naïve. Maybe they just killed us because we were peacefully protesting.
Peter Oyebanji is a Student Journalist and a Writer. He can be reached via Twitter: https://mobile.twitter.com/Anderpeter2
Peer-to-Peer Review/Critique
What qualifies as a critique on Boardspeck
Your thoughts about this article
An analysis of this article
A commendation of this article
Your constructive criticism of this article
A recommedation for author's improvement
To send a review or critique to this Author on this article, Please LOGIN or SIGN UP
Author
Top Writers (Last 30 Days)
Top Peer-to-Peer Contributors