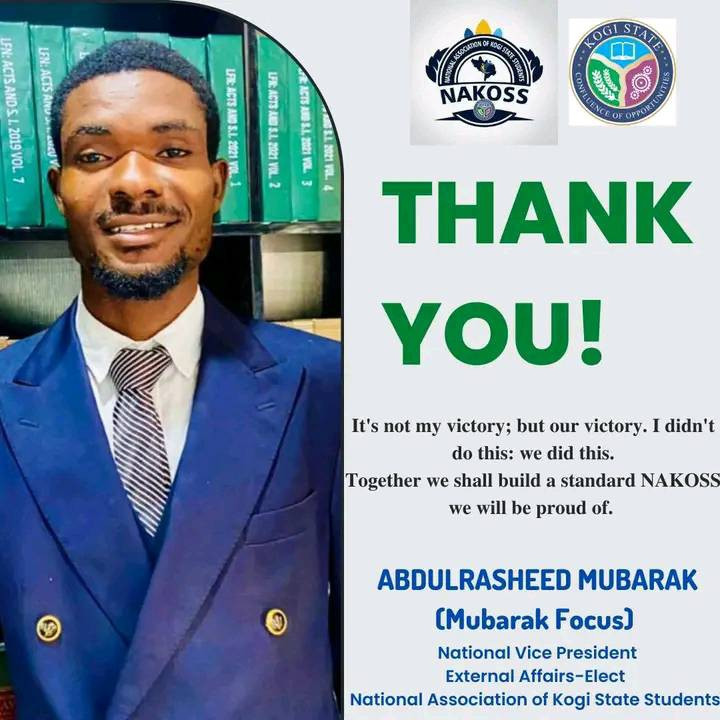 Dearest NAKOSSites,
"No duty is more urgent than that of returning thanks." James Allen
Firstly, I wish to express my sincere gratitude to Almighty Allah, the one who own and give power to whom he wish and take power from whom he wish.
The Electoral Committee for the NAKOSS National Convention declared on the 22nd November, 2022 that i emerge and i am preferred to serve the association as the next National Vice President External Affairs, National Association Of Kogi State Students.
I want to use this medium to appreciate and thank my family for their sincere, tireless efforts and prayers that led to my victory.
I stand to appreciate My own mother, the Margaret Thatcher of our time ( in OJN voice), the Secretary to the State Government, Mrs. Folashade Arike Ayoade, The S.A on students and youths matter, Hon. Comrade Ahmadu Jibril , The SSA on student affairs, Hon. Onimisi Babangida Isah , Hon. Aiyelabowo Adebanji Austin , Hon. Zacchaeus Dare Michael (Leader 501), Hon. fakky, Hon. Adeyemi Emmanuel Gbenga (Skippor G), Leader Mohammed Ali, Abdullahi Rufai Leader Faruk Mazai and all other stakeholders. I am humbled by the confidence repose in me. Thank you for the honour, I do not take it for granted.
My Appreciation shall also be extended to the people who believed in me and supported my aspiration, to my own father, Mr. Abdulsalam Ahmed Hudu , Hon. Yahaya Adesayo Ismail , to the woman who from day one called me her son, Hon. Eunice Abegunde Olukomogbon , my big bro Hon. Prime Abubakar Asuku , Mr. Hakeem Omojarabi , National AGDU President, Mr. Fatai Ahmed-Ade , Hon. Abraham Jacob , Mr. Mejabi Bolaji Benjamin, Comr. Yusuf Adeyanju Yisau, My own very nigga and best friend Adejumo Zahra and Al-Mustapha Jamiu Jamo .
I can't forget to also appreciate a leader and youth ambassador, Hon. Oladele John Nihi , Comr. Adetayo Opeyemi Duke, Mrs. Charity Ijese, Comr. Rachael Mojirola Balogun, Olayiwola Abdulqudus Lawal , Comr. Umar Dan'Assabe Muhammed Cornelius, Bro Olamide Muhyideen Crème , Queen Titilope Kawiyat , Usman Opeyemi , Sen. Prince Bala Musa Eleojo ,Hon. Ty dot, Hon. Olorunjuwon BenFortune , Othman Dakonmuwon Hamidu , Olayemi Bukola , Anna Olayemi , Olajide Et Jayblu , Ijumu Student Union 001, Comr David Ajibade, NAOS National President Ogbeni Babarinde Sunday Adeyemi, Comr. Olasunkanmi Jethro Owoniyi, Comr. Oladipo Michael Aina and Sen Auwal Lawal Nadabo amongst others.
And to all the NAKOSS senators and delegates your struggles were felt and duly acknowledged. I also congratulate all other aspirants who couldn't make it to the list, don't feel bad, we are all winners.
To the Newly Elected Executives, Congratulations.
And to every other supporters and well wishers, I say thank you.
Trust me, I'll do well to assist My own and our own National President,Comr. Yaqub Enesi Ahmad-tijani to ensure strong student participation, involvement and welfarism are see to. While we also build the standard NAKOSS we all desire.
We will celebrate your successes and we will relay your concerns.
Thank you once again.
God Bless NAKOSS NATIONAL
God Bless KOGI STATE
God Bless Federal Republic Of Nigeria
Yours Student Servant,
Abdulrasheed Mubarak Focus
National Vice President External- Elect
National Association Of Kogi State Students.
Peer-to-Peer Review/Critique
What qualifies as a critique on Boardspeck
Your thoughts about this article
An analysis of this article
A commendation of this article
Your constructive criticism of this article
A recommedation for author's improvement
To send a review or critique to this Author on this article, Please LOGIN or SIGN UP
Author
Top Writers (Last 30 Days)
Top Peer-to-Peer Contributors