Participant 19
So I hear things like..
What a pity he has just girls..
Why is he wasting his resources training them..
These are just liabilities that in future would be in their husband's houses..
How I wish he had even one son..
I also hear things like..
Had it been he had a female, his life would have been better off..
Ohh poor man, if he had at least a daughter, he wouldn't have suffered this much..
Ohhh, the society we are..
Can we just change our mentality for once?,
Can we work on our thinking perspectives?
We all need to understand that God created us and there was no disparity when he did
Yes we know he took a rib from the male to create the female, but does this mean we should treat them as trash cos they're the weaker vessels?..

So a lady is just to be seen and not to be heard, we hear our forefathers say but we forget that these ladies are humans and they have voices. Did God create them to use their voices just to sing lullabies?
Men are supposed to be strong we hear. Men are not to cry in public.. Men are not even supposed to be caught crying..
Ohhh does it mean Men don't have feelings and Emotions too??
A job interview is conducted and we hear things like.. "We're sorry, if you were to be a man, you would have fitted for the job. We don't admit women for this position...
Ohh isn't that too downgrading??
So many questions we need answers for.
The women should be treated with fairness and justice according to their respective needs..
The men also should be treated with fairness and justice according to their respective needs
Equity is what I'm advocating for.
A man cannot be placed on equality with the woman because God did not place them so..
At the same time, the women were not created to be slaves too
Yes a man can be the president,
Yes a woman can be the president too
Yes a man can own a company..
Yes a woman can own a company too
Yes...Gender equity...
Men and women should be treated fairly..
The voice of the man should be heard..
The voice of the woman should be heard too...
Equity...yes equity...
Gotten a copy of the book Whispered Screams?
.. Whispered Screams is a compelling story on sexual abuse and a girl child's journey to freedom. To get a copy of this book please contact 07051360582 (whatsapp and sms preferably) to place your order and have it delivered to you. Get yours now!!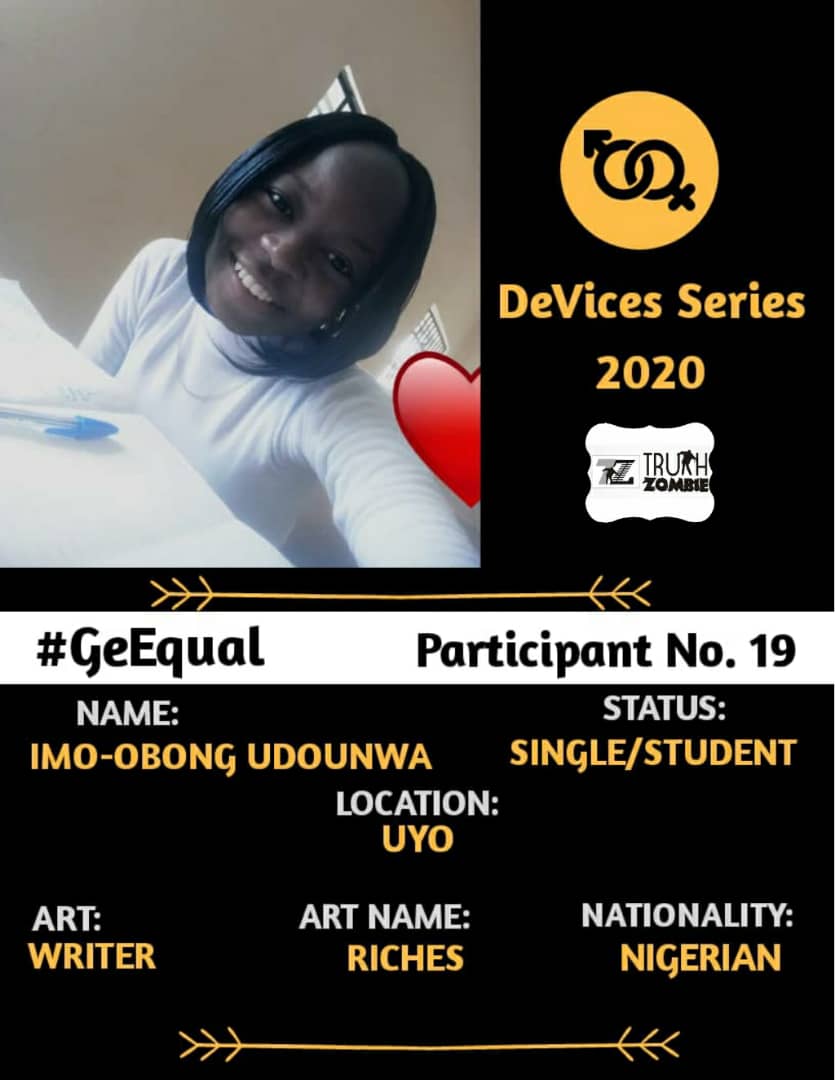 Peer-to-Peer Review/Critique
What qualifies as a critique on Boardspeck
Your thoughts about this article
An analysis of this article
A commendation of this article
Your constructive criticism of this article
A recommedation for author's improvement
To send a review or critique to this Author on this article, Please LOGIN or SIGN UP
Top Writers (Last 30 Days)
Top Peer-to-Peer Contributors