In today's competitive digital landscape, small and medium-sized enterprises (SMEs) need a strong online presence to thrive. A professional and engaging website can make all the difference in attracting and retaining customers, but creating and maintaining high-quality content can be a challenge for busy entrepreneurs. That's where the Admin Data Management Console (ADMC) comes in, offering an innovative solution for SMEs to elevate their online presence and stay ahead of the competition.
The Mckodev Website Marketplace, powered by ADMC, is a game-changer for businesses looking to establish an online presence quickly and efficiently. By browsing through a selection of professionally designed websites, business owners can choose a website tailored to their specific needs, add their logo, and even customize the brand colors. With flexible payment options and quick deployment, SMEs can have a stunning website up and running in no time.
At the heart of the ADMC is its seamless integration with your website. Designed with user-friendliness in mind, the ADMC enables business owners to navigate and manage their website's content with ease. One standout feature is its live editing capability, allowing users to edit content directly on their website without having to navigate through the ADMC manually.
The ADMC's AI-powered content generation is another groundbreaking feature that sets it apart from other content management systems. By leveraging the power of AI, the ADMC can create tailored, engaging content for your website, ensuring that it stays up-to-date and appealing to your target audience. This AI-generated content is specifically designed with your business's needs in mind, saving you time and effort.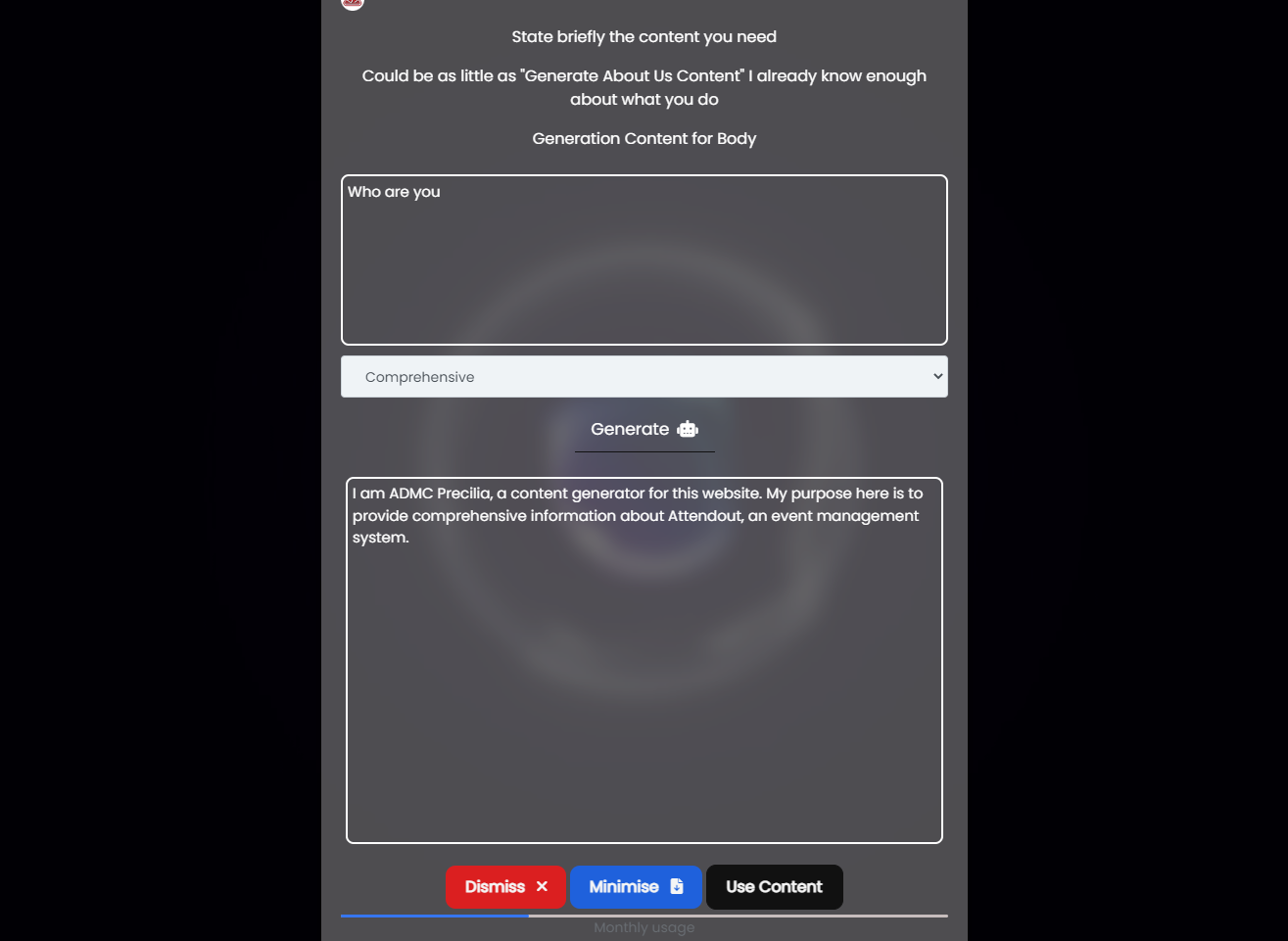 But the innovation doesn't stop there. The ADMC also offers an AI-powered paraphrasing tool to help business owners refresh and revamp their existing content. With this feature, SMEs can easily update their website's content, ensuring it remains current and engaging for visitors.
Moreover, the ADMC's integration with Unsplash offers a vast library of high-quality images that can be used to enhance the visual appeal of your website. Business owners can search, select, and crop images directly within the ADMC, eliminating the need to search the web for the perfect picture.
In summary, the Admin Data Management Console offers a comprehensive solution for SMEs to boost their online presence. With AI-powered content generation and paraphrasing, seamless website integration, live editing, and integrated image sourcing, the ADMC empowers business owners to focus on what they do best – growing their businesses. Invest in the success of your business today with the ADMC and experience the transformative power of AI-driven content generation for your online presence.

To reach our team visit https://mckodev.com.ng/contact

You can also reach us on whatsapp via wa.me/2348143379803